Effortless Power Delivery . . . Refined
See pictures, a description, and pricing on Volti Audio speakers in stock
The Rival is a three-way, hybrid horn/bass-reflex loudspeaker, with high sensitivity, wide bandwidth, superb build quality and a sound that can best be described as 'effortlessly powerful'.
Utilizing the same internal components and extremely high build quality found in my flagship Vittora loudspeaker . . .
Learn more
. . . the Rival has a very similar sound signature as the Vittora.
A true horn speaker, with lightning fast dynamics, presence and immediacy.  It is a speaker that combines effortless power delivery and refinement – a rare combination.
The Rival delivers a sound that is musically engaging and easy to love.  You can sit for hours and listen to music without fatigue or annoyances that are often found in lesser horn speaker designs.
Truly a speaker you can live with long term.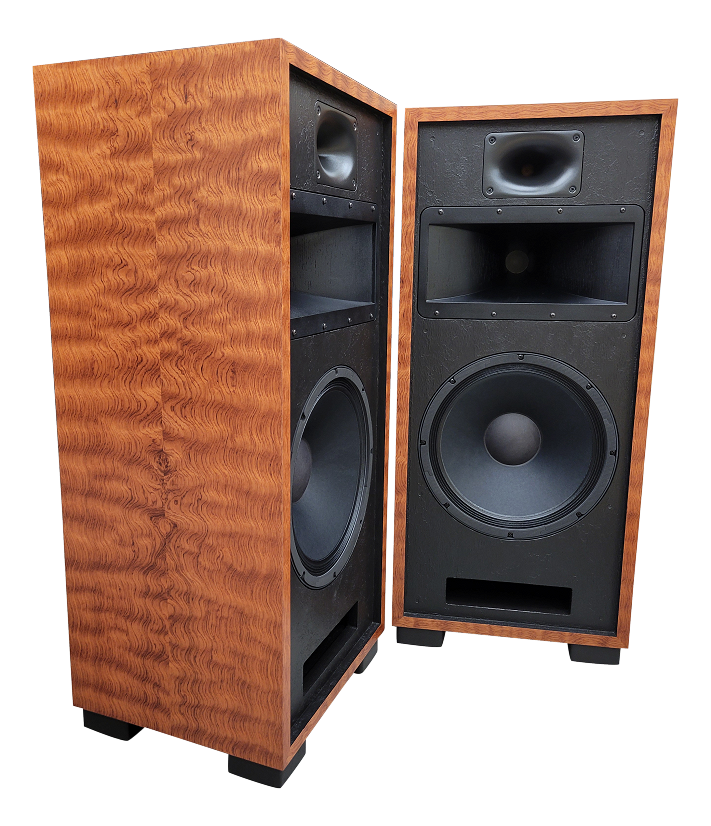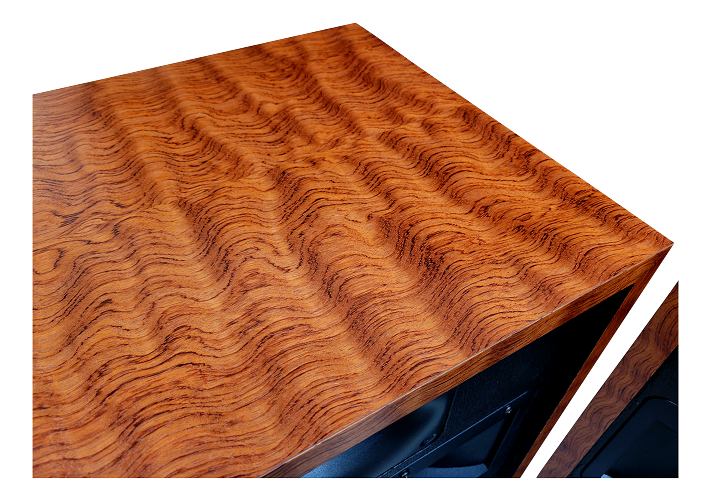 Placement Flexibility
The Rival is room-friendly and can be positioned against a wall, in a corner, or pulled out into the room.  It is front-ported which allows the greatest flexibility in placement since the port does not rely on, nor is affected by, walls behind or beside the speaker.
The sensitivity and ease of drive make the Rival capable of filling a very large room whereas the superb integration ensures it will also work in an intimate, near-field setting.
Details and Specifications
15" high-power and high-sensitivity woofer – bass reflex configuration, ported
Wooden midrange horn with a known Tractrix flare, 2" throat, designed and built by Greg Roberts
High quality 2" outlet midrange compression driver with a 3-1/2" phenolic diaphragm
Elliptical tweeter horn with a known Tractrix flare
High quality 1" compression tweeter driver
Custom made crossovers, high quality components, hand-wired , adjustable, final voicing done while comparing directly to a Vittora speaker
Bi-wire or Bi-amp at the input terminals
Sensitivity: 100db
Recommended amplifier power: 3wpc (min.), 100wpc continuous (max.)
Bandwidth: 32Hz – 20kHz
Impedance: 6ohm
Dimensions/Weight:
Type I, 41-1/2" tall, 19" wide, 16" deep, 125lbs
Type II, 41-1/2″ tall, 19″ wide, 16-3/4″ deep, 135lbs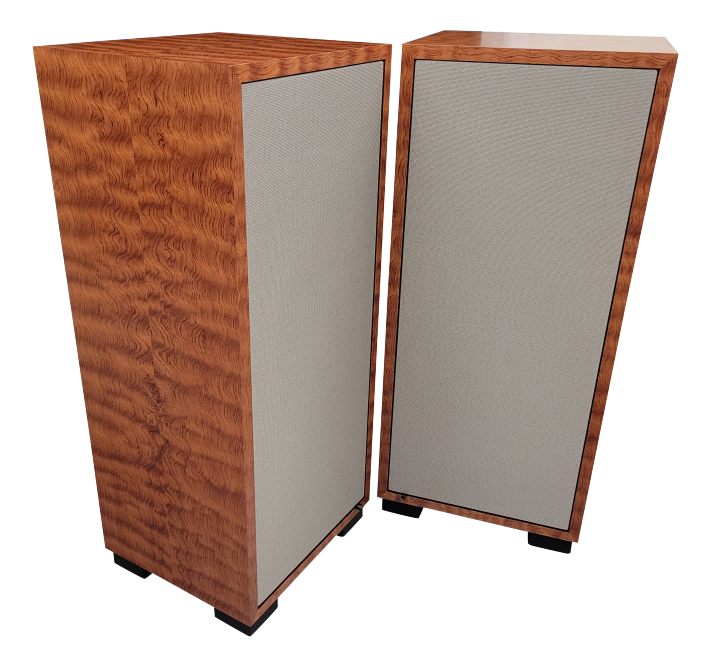 Quartered Bubinga Veneer with Premium gray cloth
Sound Signature
With a frequency response of 32Hz – 20Khz and a sensitivity of 100db (2.83v/1M), The Rival delivers glorious, full range, tactile sound from as little as a couple watts of power.
The Rival exemplifies the "Volti" sound signature you'll hear in all of our speakers:
Effortless power delivery
Wide dynamic range
Finely resolved articulate mid-range
Immersive, room-filling sound
Pinpoint imaging and wide soundstage
Sings-with-one-voice driver integration
Full-range bandwidth
Tight, deep bass
Accurate tone and timbre
Volti Audio is known for building beautiful speakers.  I also put an emphasis on durability and longevity.
Learn more
Finish:
The Rival comes with real wood veneer applied in a vacuum bag for a glass-smooth surface.  I use a "permanent" two-part glue to bond the veneer to the cabinet.  By contrast, many manufacturers use PVA glue or contact cement, which are not 'permanent' glue bonds.
Volti Audio is known for beautiful finish work.  The lacquer finish used on the wood veneer of The Rival cabinets is catalyzed and designed to resist damage from UV light.  I use a medium-rubbed lacquer finish to allow the character and texture of the wood grain to show through, so you always know you're looking at a real piece of wood.
The durable textured paint finish used on some panels of The Rival is a commercial grade coating designed to handle wear and tear better than typical paint finishes.  This coating is easy to clean and is not scratched or damaged as easily as smooth, glossy coatings.
Cabinet:
You will never find MDF or 'flakeboard' used in the construction of a Volti Audio speaker cabinet.  I think of my speakers as 100-year products, and I use the finest wood, adhesives, and fasteners in the construction of my cabinets.  The Rival cabinet is built from 1" thick Baltic Birch plywood, fully braced, and properly damped.    I welcome comparisons to any other speaker – especially in the same price range as The Rival.
Components:
Driver and crossover components are 'Pro-Audio' grade, meaning they are very durable and capable of being used a lot harder than they ever will be in your home.  This means that even at full rated input power, the drivers are only working at a fraction of their capability, and will last a very long time because of that.  The Rival woofer for instance, is capable of continuous 600 watt input – ten times what it will ever handle with full rated input into the speaker.  And unlike woofers with rubber surrounds, it has a resin impregnated cloth surround that will last for decades.
Cloth:
The cloth used on the grills of the Rival is of the highest quality woven fabric that is stretched tightly over 1/2″ thick Baltic Birch frames and secured in place with plenty of staples.  These grills are a beautiful part of the look of the Rival that will also last for decades.
The Rival speakers truly do offer both Beauty and Durability
. . . is the quality that comes from creating with passion, care, and attention to detail.  It is a quality that is evident in every aspect of the Rival speaker.
Learn more
The materials used in the Rival are meticulously selected for their physical beauty, durability, and sonic characteristics.
The look, feel and sound of the Rival is the combination of great craftsmanship, great materials and attention to details.
Consider the workmanship and high quality materials for the grill frames.  They align and snap onto the cabinets with magnets and are made from a solid piece of ½" thick Baltic Birch plywood, cut by CNC, sanded, primed, painted, and then covered with a durable cloth.
Go ahead, find another speaker on the market at any price point that is made with 1″ Baltic Birch plywood.  Most cabinets are made with inferior materials, such as MDF or 'flakeboard'
Take a look at the crossovers in other speakers, even ones costing many times more than the Rival.  You probably will not see the quality level of components used, nor will you see one of the very nice features of the Rival;  crossovers that are separated into two plates inside the cabinet to minimize interference between the low and high filter components.
Many other quality details can be found on Rival speakers, like laser cut Lexan input plates with high quality five-way binding posts (bi-wire-able), drivers mounted with machine screws and inserts (rather than wood screws into flakeboard), the use of 'No Rez' brand damping material, and polyurethane 'lifetime' adhesives.
The use of higher quality (more expensive) components results in a more refined sound.  Nowhere is this more evident than with the components used inside a horn speaker.  Other companies use $20 midrange compression drivers made in Taiwan.  That's not the Volti Audio way of doing things.
Learn more
The Rival features a very high quality tweeter driver with a voice coil diameter of nearly 2″ wrapped around a dome-shaped composite diaphragm and a powerful neodymium magnet for fast, smooth, and extended response out to 20Khz.  The tweeter lens attached to the driver has an oval shape and tractrix flare.  Like all Volti tweeters, they integrate high frequencies without the annoying and harsh sounding peaks that other high-sensitivity horn tweeters exhibit.
The Rival features one of the finest sounding midrange compression drivers money can buy.   These drivers have a 2" outlet, a 3.5″ phenolic diaphragm, and a neodymium magnet.  Other companies love to spout statistics about the superiority of metal diaphragms in their midrange drivers.  Phooey!  I'll take the natural sound of a phenolic diaphragm over a metal one any day.  You would too, if you had the opportunity to sit and compare them as I have.  The Rival has a midrange horn that I build out of wood, with a 2″ throat and a modified tractrix flare.  This combination of driver and midrange horn used in the Rival is where the music lives!
The Rival features a cutting-edge woofer, with low distortion, high sensitivity, a neodymium magnet, cast-aluminum frame, and a host of other features that all work together to help the Rival produce tight, low bass.  At audio shows, more than one person has commented to me about how 'right on' the bass is with the Rival.  While other speakers have impressive bass sound, the Rival offers the experience of listening to music with impressive bass.  It is an important distinction.
The Rival features hand-built crossovers with very high quality Metalized Polypropylene Capacitors, 14ga hand-wound copper inductors, and metal-oxide resistors, all mounted on separate high and low frequency wooden boards that are carefully located within the cabinet to reduce vibration and interference with driver magnets.  These Volti Audio crossovers are the key to the great integration and overall voicing you hear from the Rival.
The Rival is able to reproduce nine-full-octaves of rich, smooth, ultra-low distortion sound because of these great drivers and components.
Like all Volti Audio loudspeakers, the Rival has an exceptionally high parts and labor cost relative to the selling price.
Learn more
Our chosen business model is to sell direct to our customers, without dealers or distributors.  This essentially cuts the price of our speakers in half compared to loudspeakers sold through dealers.
The quality of materials, the craftsmanship, the meticulous finish work, and our direct-to-customer sales approach make Volti Audio loudspeakers the best value for money loudspeakers available.
Photographs of Rival speakers from all angles showing our different wood veneer finishes and grill cloth options HERE
Read what Customers and the Press have to say about Rival speakers
Three Rival Models To Choose From
$16,000
The Rival Type I style has a beautiful wood veneered front panel and a durable, textured paint finish on the cabinet body.  The components are mounted so that no fasteners can be seen.
The front panel edges and woofer hole chamfer show off the plies of the Baltic Birch that the panel is made of.  A stylish contrast to the wood veneer.
Price does not include crating or shipping.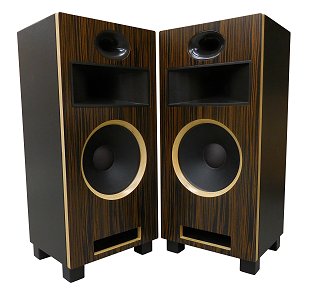 Painted cabinets, Ebony Veneered Fronts
$16,000
The Rival Type II offers classic styling with beautiful wood veneers and vintage-style cloth grills.
Price does not include crating or shipping.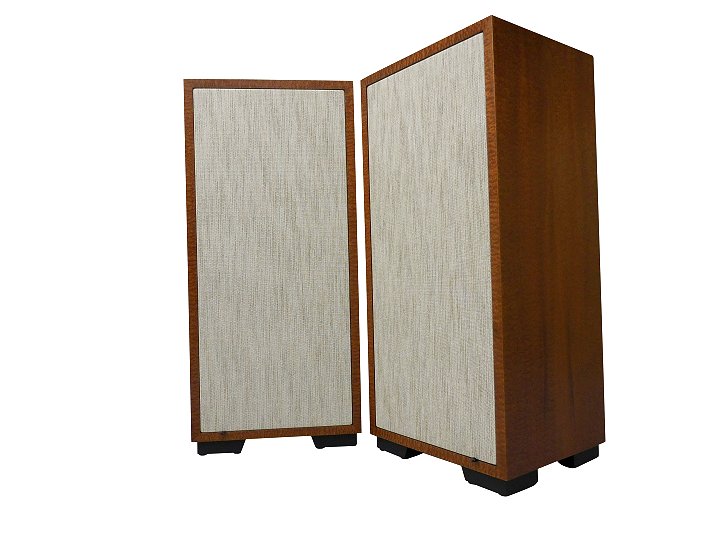 Bosse Cedar with Premium Light Beige Cloth
$22,000
The Rival Special Edition is the top of the line in the Rival series of horn loudspeakers with beautiful curved-sided cabinets built with uncompromising quality, premium veneers, premium cloth, and the highest level of performance.
They even come with matching, veneered, curved-sided external crossovers.
Price does not include crating or shipping.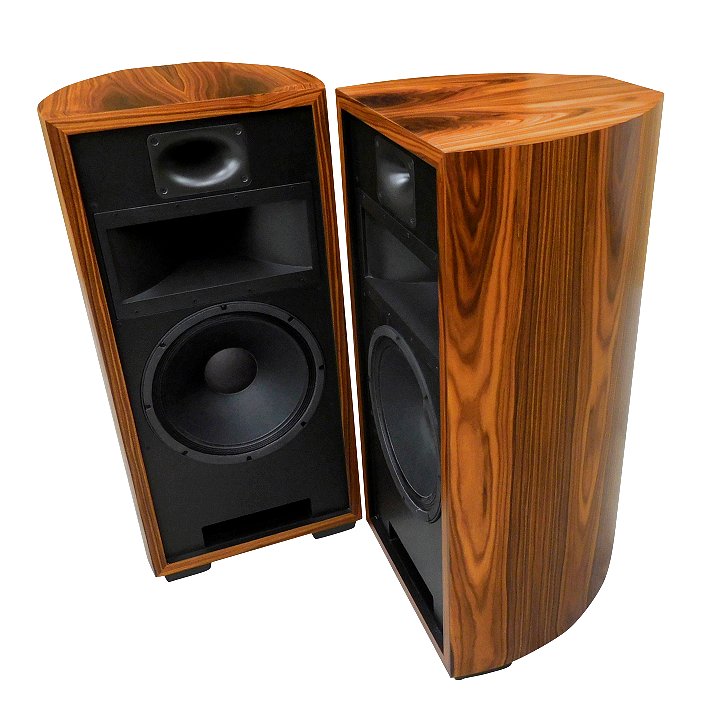 The crossovers in the Rival loudspeakers are adjustable.  You can change the output level of the midrange and tweeter independently from the woofer output, providing flexibility in the overall voicing of the speaker.  This is helpful to compensate for room variations, synergy with the electronics, or for simply tuning the system to one's taste.  It's a feature that my customers tell me they really appreciate having.  Why don't all speakers offer this?