Helping my customers build a great sounding system!
Greg Roberts
207-314-1937 CST
"System Building" is something all audiophiles do, but sometimes it is costly and frustrating to find system synergy. Avoid the "buy/try/sell/buy/try/sell . . ." drama and cost, and use my experience to help put together a great sounding system around your Volti Audio speakers (or any high-sensitivity horn speaker system).
I've had the opportunity to use many different products with my speakers over the years. The experience I've gained in putting together systems that have great synergy is something that you can benefit from. I only recommend products that I've used personally, and I've arranged to be able to sell these products to you directly, at prices that match the best you'll find anywhere.
Because I service just a few customers (unlike brick and mortar dealers who suffer through a hundred people walking through the door per one sale), I can provide you with a level of service that you simply will not get anywhere else. It's like having your own personal system concierge! Who else can you call on at virtually anytime and get personalized, one on one expert advice and a source for buying gear at the best price?
This is a service that you should really consider using.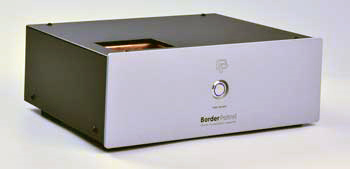 Let me help you put together a digital front-end for your system
I know, I know, adding another computer to your life . . .  trust me, I also felt the same way about switching my music over from CD's to a music server.  But I gotta tell you, I'm absolutely loving the convenience and sound quality of this digital gear.
This setup works, and it's affordable and great sounding too.  Give it a chance.  I promise you'll love it.  I'll help you get there.
Here are the parts that make up my digital system:
Apple Ipad
Tripod stand
Subscription to Quobuz music streaming service
Buy this system from me please.  🙂   The extra money I make from selling electronics (in addition to the speakers I build) pays for my time to provide consultation to all of my customers.  I'm here for you, available by phone or email seven days a week.  I really appreciate your support.
There are several different models of Innuos music servers to choose from, at different price points.  If you've got questions about the lineup, please don't hesitate to send me an email or give me a call and I'll help you decide which one will fit your needs the best.
I even offer the service of setting up and breaking in the system here at my place if you wish.  I can even get an Ipad setup and working for you so you don't have to do that yourself at home.
The bottom line for me is that I'll never go back to CD's or records again.  The incredible sound quality of this system has spoiled me almost as much as the convenience of having any music I want right at my fingertips in seconds.