7/2022 – Greg Roberts
In 2011 I attended my first Audio Trade show – Capital Audiofest – and brought with me a pair of speakers that I spent almost two years developing.
I remember that show like it was yesterday.  At that time, I had no idea that my speaker designs could compete on the world stage, let alone be as highly regarded as they are.  It was and still is humbling.
The Vittora grabbed attention easily because of its unique design, its great sound, and its relatively low price.
It's a great speaker.  Certainly one of the finest sounding horn speakers in the world.  It has sold well for Volti Audio, and my customers love them and hold on to them.  The used market is nil.
The Vittora is a success story in every sense, but it's time for me to take it up a notch, and I'm ready to re-introduce this system as the New Vittora, an updated and better sounding version of the original.  I have become a better speaker designer in the last eleven years, and I have many improvements ready to go in the New Vittora.  Crossover work, a new midrange horn, improved wiring, improved cabinet construction, a new ELF system, and a wider variety of finishes just to name a few.
If you like the look and sound of the original Vittora, you will LOVE the New Vittora!
The New Vittora system will consist of two main speakers, two Extended Low Frequency (ELF) cabinets, an amplifier/processor for the ELF cabinets, and all speaker/ELF cabling (Triode Wire Labs of course).  Final pricing for the system has not been finalized at this point, but I'm aiming for between $40K and $45K.
I expect to have New Vittora systems ready to ship by early 2023.  When the system design is finalized later in 2022, we will begin production on the first batch of six complete Vittora systems.
As most of you know, Volti Audio is a very small company (by choice) and developing a world-class product like the Vittora is quite an undertaking both in terms of time and expense.  As a way to raise money to help cover development costs, I am selling five of the first six complete Vittora systems at pre-production pricing.
As of the date of this update, 8/30/2022, four of the five have been spoken for, which leaves one set available at $38,000.  If you're interested, please send me an email for the details.
If you're curious about the sixth set, it is going out for review and then will likely be used at AXPONA 2023, and possibly other shows as well.
We have a private forum where we discuss the development of the New Vittora and the progress being made.  If you'd like to be invited to the forum discussion, please send me an email.
Stay tuned for more updates.
Meanwhile, below you will find the webpage for the original Vittora system, which I will leave in place until the New Vittora is ready to go.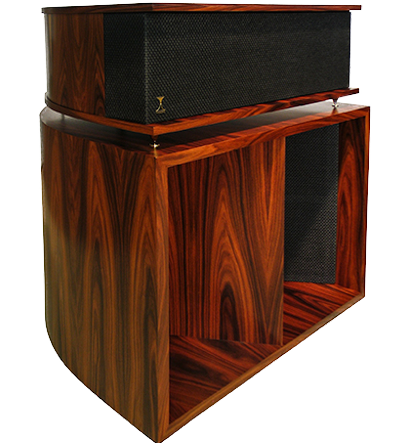 The Vittora is a fully horn-loaded, three-way, high-efficiency speaker system that delivers wide dynamic range, high output, and extremely low distortion. It IS a horn speaker, and it gives us everything we like about horns while minimizing the problems that plague some other horn designs. The Vittora strikes a balance between the sound of a high-end, smooth, audiophile speaker, and the in-your-face, lively, dynamic sound of a big horn system. It is unmistakably true to the all-horn format, but polite enough to be taken seriously by any audiophile.
The Vittora system is a five-piece set that includes two top horn sections (each with a midrange horn and a tweeter horn), two folded bass horns and one Extended Low-Frequency (ELF) cabinet. The main speakers are three-way and are operated full-range, but with the ELF cabinet, it is technically a four-way system.
The Vittora bass cabinet utilizes a 15″ woofer in a folded horn to produce solid, accurate bass. Even at high output levels, the distortion from this horn is undetectable, and the result is a quickness and definition that you can only get with a horn design. There's no ported bass sound with this horn speaker! You get tight, accurate bass, a correct sounding upper-bass/lower-midrange, and perfect integration between the bass and mid.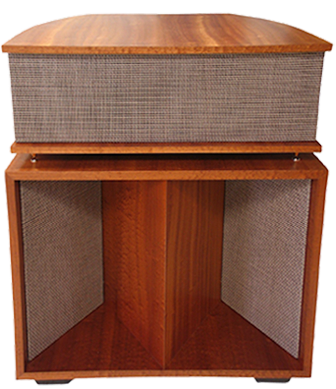 The Vittora uses a large wooden midrange horn with a tractrix flare, designed and built in-house. The horn has a 2″ throat and uses a large-format midrange compression driver with a 3-1/2″ voice coil. This combination of large, solidly built wooden horn with a large throat and huge midrange compression driver results in a midrange sound that is effortless and easy to listen to. There is no constriction of the sound through a tiny throat, there is no edginess, graininess, or honky sound that so many other horn designs suffer from. The Vittora midrange is smooth and articulate, dynamic and uncolored. The midrange is truly the heart of this loudspeaker, and the listener is rewarded with a musicality from this midrange horn that is very rare in this industry, at any price.
The tweeter combines a 1″ compression driver feeding through an elliptical tractrix horn, and with a carefully tuned crossover filter, it delivers extended, smooth high frequencies that compliment the rest of this system.
The hand-wired crossover networks are located inside the top horn section, and are the result of hundreds of hours of listening and testing to achieve near-perfect integration between the system components. The networks provide many adjustments for balancing the system, if desired.
The Vittora system uses a carefully tuned Extended Low Frequency cabinet that is very different from a powered subwoofer.
Why not just use a powered subwoofer? Click here to learn more
Virtually all powered subwoofers are designed for use in home theaters.  They are built to be able to extend the bass down to 20Hz and below (frequencies that are felt more than they are heard), and to also play these frequencies at the same output level as higher bass frequencies (frequencies that are heard more than they are felt).  These frequency response 'curves' and low bass characteristics are better suited for movie sound effects than they are for integrating into a two-channel music system.
It is rare to find a two-channel music system with a powered subwoofer that is properly integrated.  Typically, subwoofers in two-channel systems are very much calling attention to themselves as separate pieces of the system.  As your attention is drawn towards the separate low bass, so too is your attention drawn away from the music.
. . . . and that's not good enough.
The Extended Low-frequency (ELF) cabinet of the Vittora system is not like a powered subwoofer at all.  The ELF cabinet handles frequencies below 50Hz with a massive 18″ driver in a very carefully tuned bass-reflex cabinet.
The tuning is purposeful and unique.
Low bass from the ELF cabinet is fast, and can keep up with the speed of the bass from the Vittora bass horn.
The ELF cabinet is musical, and never draws attention to itself separately from the rest of the system.
The low bass from the ELF cabinets sounds as though it is coming from the main Vittora speakers.
The frequency 'curve' and output characteristics of the low bass from the ELF cabinet perfectly integrates with the bass from the Vittora bass horn.
The end result is low bass with all the speed and effortless dynamics that you can only get in a horn loudspeaker, and no other horn loudspeaker on the market extends as low and does so in such a musically integrated way.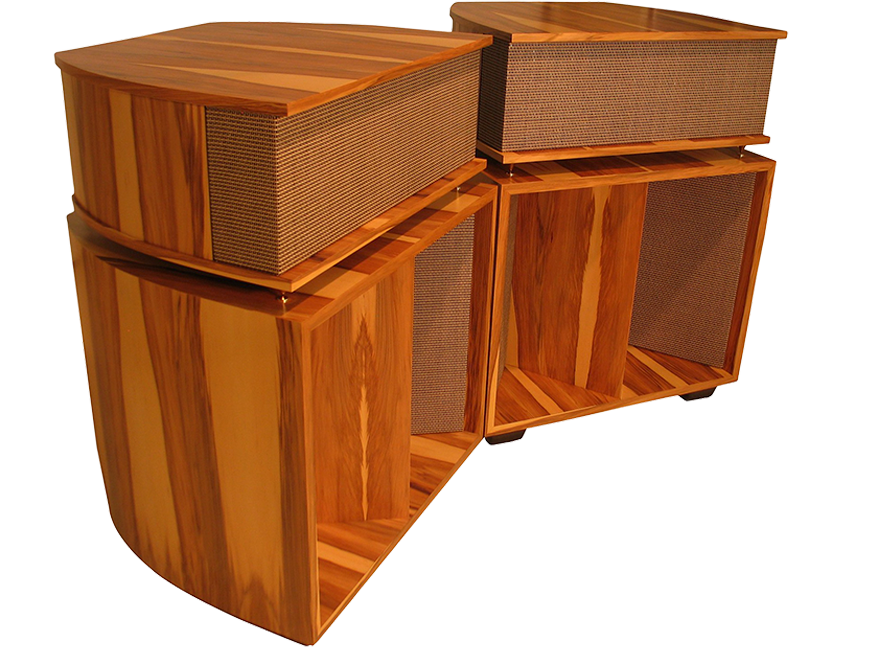 Red Gum (Satin Walnut) veneer with Cane-Style cloth, medium-rubbed lacquer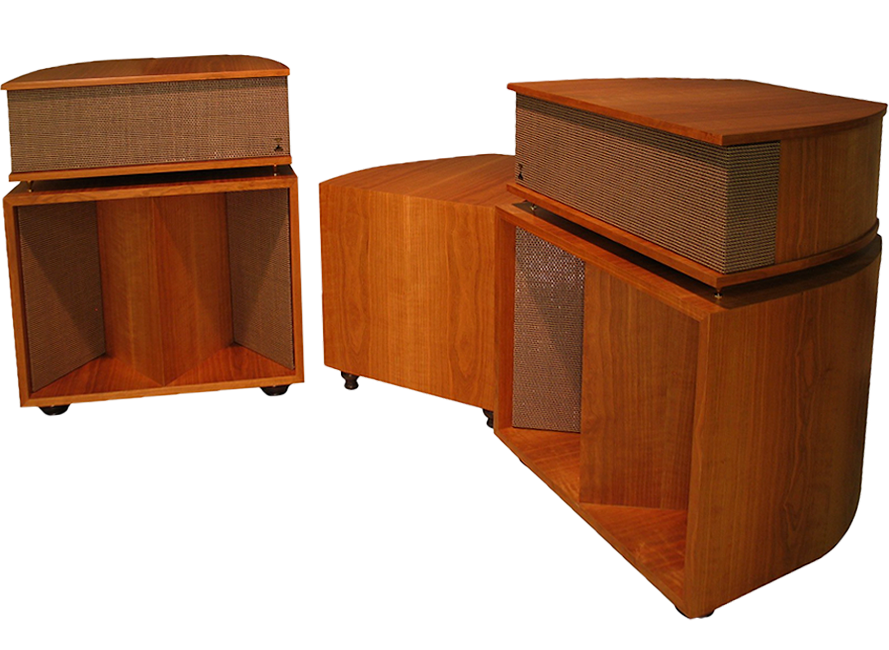 The Five-Piece Set in Cherry veneer with Cane-style cloth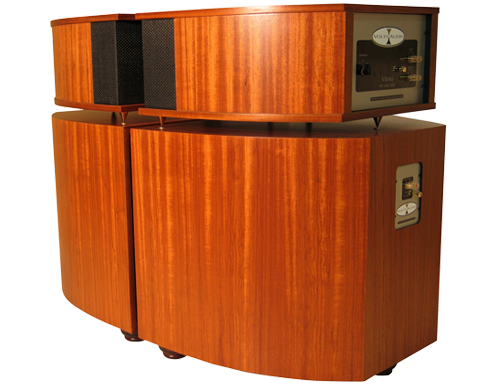 Each Vittora cabinet is 32″ wide at the front, 15″ wide at the rear, 27″ deep, and 40″ tall.   The folded bass horn weighs 127lbs and the top horn section weighs 60lbs.   The ELF cabinet is 24″ wide at the front, 6″ wide at the rear, 24″ deep, 27″ tall, and weighs 115lbs.
The ELF cabinet is non-powered, so you will need an amplifier and a processor to provide the necessary crossover.  There are many choices for these components, but we like the simplicity and relatively low cost of the  
Marchand MB42 Amplifier.
The MB42 has 300 watts of power and a very nice analogue, 24db slope crossover network built in.  Over the years it has proven a reliable and capable component match to the ELF cabinet.  The cost is $2,900 purchased directly through Volti Audio.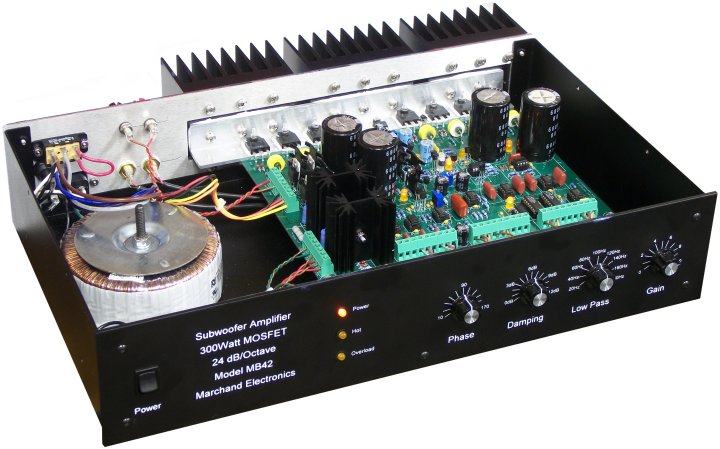 Vittora System Capabilities
Frequency response of the Vittora System is 25Hz – 20Khz (main speakers 50Hz – 20Khz and the ELF cabinet 25Hz – 50Hz.   What is interesting here is the design of the system, utilizing a bass horn that extends to 50Hz, and a separately powered cabinet that handles the last octave below that. The end result is a system that sounds like it is fully horn-loaded down to 25Hz, but in a much smaller package than it would be if there was a 25Hz folded horn.
Sensitivity is 104db 1W/1M and power handling is 200 watts continuous. We don't know of another speaker on the market with such a combination of sensitivity and power handling. The Vittora system is capable of whisper detail at one-one hundredth of a watt, and thundering power at 200 watts, capabilities that are very unique indeed.
There are hundreds of wood veneer species available for us to install on your speakers.  We'll help you choose something special just for you by sending you photos of actual veneer sheets to choose from.  Beautiful and rare species such as Red Gum, Rosewood, Bubinga, Zebrawood, Bosse Cedar, Tiama, Mahogany, Burls and specially figured veneers are all available for us to install on your Vittoras.  So let's go all out and find a really great veneer!  These heirloom quality speakers deserve it!