In 2011 I attended my first Audio Trade show – Capital Audiofest – and brought with me a pair of speakers that I spent almost two years developing.
I remember that show like it was yesterday.  At that time I had no idea that my speaker designs could compete on the world stage, let alone be as highly regarded as they are.  It was and still is humbling.
I remember thinking that my being there was like knocking on the clubhouse door and wondering if the industry would let me in.
The Vittora grabbed attention easily because of it's unique design (as compared to all the high-end, box, tower speakers on the market) and for it's price point.
I caught a lot of flack for selling the Vittoras so cheaply in the beginning.  Some people just don't understand the dynamics of starting a business from scratch and the time it takes to learn how to do all the specialized tasks required to build a complex product like the Vittora at a world-class level.  I'm just one guy.  Selling Vittoras cheaply meant I could build more!  No better way to learn than to do those tasks over and over again.  I was funding my education by selling them quickly and cheaply.  I worked hard on those first Vittoras, and I did learn the skills necessary to build the world's finest wood speaker cabinets, to make complex templates and jigs, to install permanently-bonded wood veneer in a vacuum bag, to properly sand and detail, to spray lacquer finishes at a very high level, to design and build the very best crossovers, etc…
So here we are ten plus years later, and the Vittora is ready to be re-introduced as the New Vittora, or the Vittora II, or something like that, I haven't decided yet.  My guess is that the New Vittora system will be complete sometime during 2022.
I've learned a lot in the last ten years about how to design and build great sounding horn loudspeakers.  I'm much better at it now.  The original Vittora is a great sounding speaker, but it is a product of my past, and I've got a lot more to prove with this design in the future.  The Next Vittora will be better built than ever, will sound even more dynamic and true to the live event than ever, and will be even more beautiful.
For many years, the Vittora was the only speaker I was offering my customers.  Because of that, the design was compromised a bit to keep the size smaller and the cost down.  Now that I have the Rival and Razz speakers in the lineup, my customers can get the 'Volti' sound in a smaller and less expensive package.  This allows me the freedom to push the boundaries of the design of the New Vittora so we can fully realize its potential.
I'm very excited about this!
It's going to be a while before I have photos and information on the New Vittora.  Meanwhile, I'm happy to keep the original Vittora webpage up here for you to see.
Sign up for the Volti Audio newsletter for updates on the New Vittora project.  If you're interested in purchasing one of the first sets of the New Vittora, I will be offering them at a discount prior to the formal introduction.  I would appreciate this very much as the funds from the sale of even just one set will help with the development costs greatly.
Greg Roberts – 11/14/2021
Update 2/2/2022 – yes, on Groundhog Day, I have an update for you.  The new Vittora bass horn design is complete and the first parts out of the CNC shop have arrived at my shop for assembly of the first prototype cabinet to be built for testing.  I'm excited.  Greg
Update 5/14/2022 – time flies doesn't it.
I've been getting inquiries on the New Vittora system.  It's nice to know there is an interest out there.  Here's my reply to an email inquiry I received yesterday.  I'm including this here for your information.  
Hi XXX
Thank you for contacting me.
The Vittora system is the very first speaker I developed 13 years ago.  It has proven to be a great speaker and a great product for Volti Audio.  When I first developed the system, I made certain compromises in the size and orientation of the design (tweeter on the side of the horn) to help make the product more marketable and to keep costs down.  Now that I have very good options for my customers that are smaller and less expensive than the Vittora, I feel free to be able to change the design of the Vittora to realize the full potential of the design.  I am working on the redevelopment of the Vittora system now, with many improvements and changes – and it is a time-consuming process.  My hope is that I will have the design and prototyping work done by the end of the year.  I believe New Vittora systems will be ready to deliver early next year.
I have had many inquiries, and my suggestion to the many customers who have inquired, and an offer that I make to you, is to consider the purchase of a pair of Rival speakers as an interim step to the New Vittora.  The Rival is a very capable performer that I think you will be very happy with.  You may trade in your Rival speakers for the New Vittora and when I come to install the New Vittora system in your home, I will take the Rivals back with me.
I appreciate your interest in the New Vittora speaker system.  Please contact me anytime for an update on my progress.  I will be posting periodically on the Volti Audio website about my progress here:
https://voltiaudio.com/vittora/
Please keep in mind that my business is more than just manufacturing and selling speakers.  I keep my business small on purpose, and I service a limited number of customers each year by choice.  I get to know my customers and they me.  I have a keen interest in helping my customers build whole systems.  To me this is an even more rewarding experience than simply selling speakers.  I have several different brands of electronics and cabling that I find work extremely well with my high-sensitivity horn speakers.  Buying a complete system from me is a sure way to having a reliable system of components that have great synergy.   There is no additional cost for my service to you.  I very much appreciate being able to help my customers with complete systems because I know how happy they will be in the end, and the extra money that I make from selling equipment that I don't have to manufacture is financially beneficial to Volti Audio.  It is also something that I very much appreciate.
I look forward to doing business together.
Please reply back so I know you got this email.  I will start a folder on my computer in your name.
Regards,
Greg Roberts
Volti Audio
207-314-1937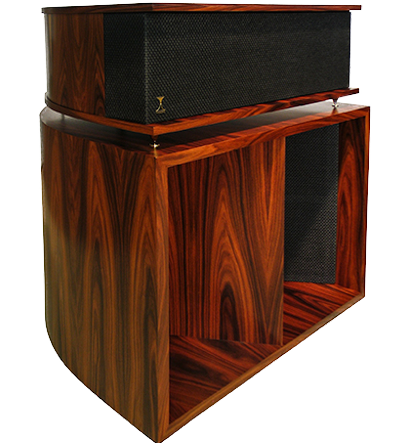 The Vittora is a fully horn-loaded, three-way, high-efficiency speaker system that delivers wide dynamic range, high output, and extremely low distortion. It IS a horn speaker, and it gives us everything we like about horns while minimizing the problems that plague some other horn designs. The Vittora strikes a balance between the sound of a high-end, smooth, audiophile speaker, and the in-your-face, lively, dynamic sound of a big horn system. It is unmistakably true to the all-horn format, but polite enough to be taken seriously by any audiophile.
The Vittora system is a five-piece set that includes two top horn sections (each with a midrange horn and a tweeter horn), two folded bass horns and one Extended Low-Frequency (ELF) cabinet. The main speakers are three-way and are operated full-range, but with the ELF cabinet, it is technically a four-way system.
The Vittora bass cabinet utilizes a 15″ woofer in a folded horn to produce solid, accurate bass. Even at high output levels, the distortion from this horn is undetectable, and the result is a quickness and definition that you can only get with a horn design. There's no ported bass sound with this horn speaker! You get tight, accurate bass, a correct sounding upper-bass/lower-midrange, and perfect integration between the bass and mid.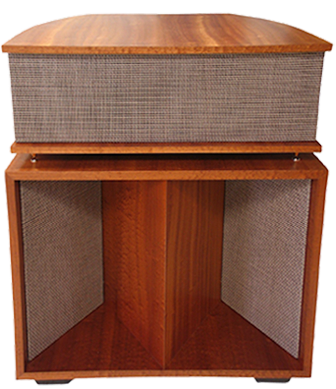 The Vittora uses a large wooden midrange horn with a tractrix flare, designed and built in-house. The horn has a 2″ throat and uses a large-format midrange compression driver with a 3-1/2″ voice coil. This combination of large, solidly built wooden horn with a large throat and huge midrange compression driver results in a midrange sound that is effortless and easy to listen to. There is no constriction of the sound through a tiny throat, there is no edginess, graininess, or honky sound that so many other horn designs suffer from. The Vittora midrange is smooth and articulate, dynamic and uncolored. The midrange is truly the heart of this loudspeaker, and the listener is rewarded with a musicality from this midrange horn that is very rare in this industry, at any price.
The tweeter combines a 1″ compression driver feeding through an elliptical tractrix horn, and with a carefully tuned crossover filter, it delivers extended, smooth high frequencies that compliment the rest of this system.
The hand-wired crossover networks are located inside the top horn section, and are the result of hundreds of hours of listening and testing to achieve near-perfect integration between the system components. The networks provide many adjustments for balancing the system, if desired.
The Vittora system uses a carefully tuned Extended Low Frequency cabinet that is very different from a powered subwoofer.
Why not just use a powered subwoofer? Click here to learn more
Virtually all powered subwoofers are designed for use in home theaters.  They are built to be able to extend the bass down to 20Hz and below (frequencies that are felt more than they are heard), and to also play these frequencies at the same output level as higher bass frequencies (frequencies that are heard more than they are felt).  These frequency response 'curves' and low bass characteristics are better suited for movie sound effects than they are for integrating into a two-channel music system.
It is rare to find a two-channel music system with a powered subwoofer that is properly integrated.  Typically, subwoofers in two-channel systems are very much calling attention to themselves as separate pieces of the system.  As your attention is drawn towards the separate low bass, so too is your attention drawn away from the music.
. . . . and that's not good enough.
The Extended Low-frequency (ELF) cabinet of the Vittora system is not like a powered subwoofer at all.  The ELF cabinet handles frequencies below 50Hz with a massive 18″ driver in a very carefully tuned bass-reflex cabinet.
The tuning is purposeful and unique.
Low bass from the ELF cabinet is fast, and can keep up with the speed of the bass from the Vittora bass horn.
The ELF cabinet is musical, and never draws attention to itself separately from the rest of the system.
The low bass from the ELF cabinets sounds as though it is coming from the main Vittora speakers.
The frequency 'curve' and output characteristics of the low bass from the ELF cabinet perfectly integrates with the bass from the Vittora bass horn.
The end result is low bass with all the speed and effortless dynamics that you can only get in a horn loudspeaker, and no other horn loudspeaker on the market extends as low and does so in such a musically integrated way.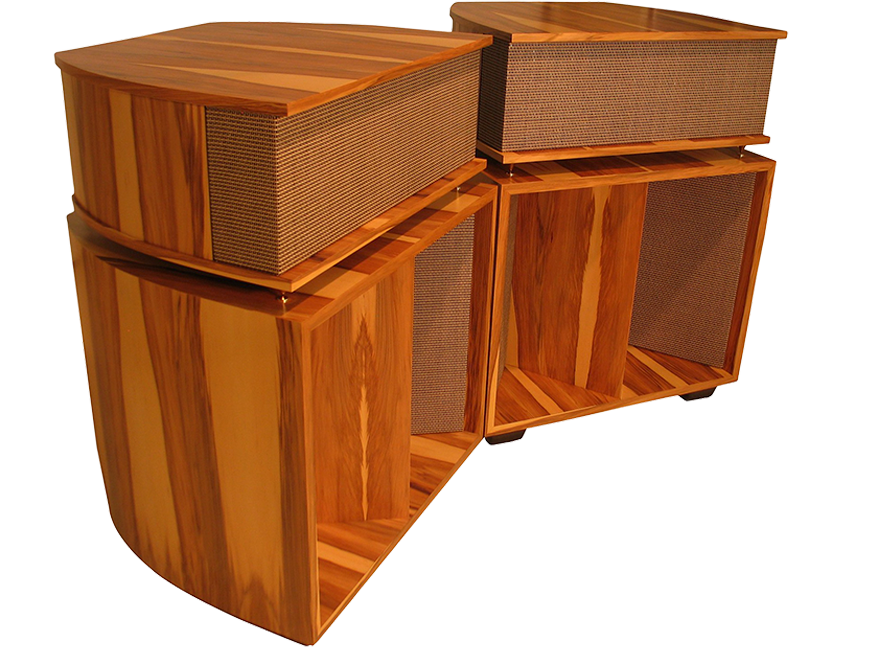 Red Gum (Satin Walnut) veneer with Cane-Style cloth, medium-rubbed lacquer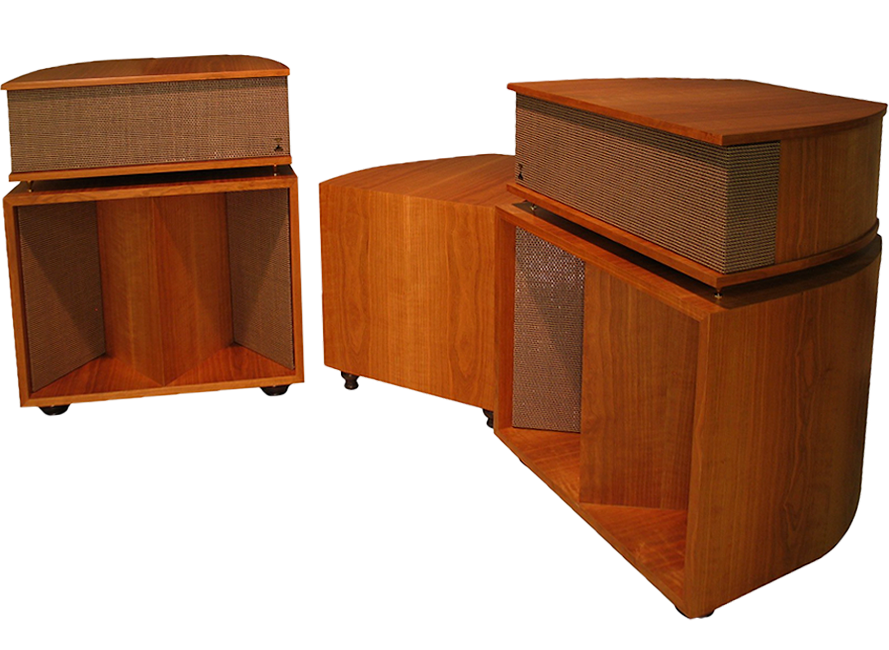 The Five-Piece Set in Cherry veneer with Cane-style cloth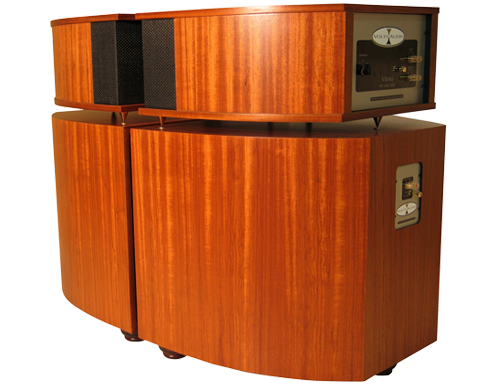 Each Vittora cabinet is 32″ wide at the front, 15″ wide at the rear, 27″ deep, and 40″ tall.   The folded bass horn weighs 127lbs and the top horn section weighs 60lbs.   The ELF cabinet is 24″ wide at the front, 6″ wide at the rear, 24″ deep, 27″ tall, and weighs 115lbs.
The ELF cabinet is non-powered, so you will need an amplifier and a processor to provide the necessary crossover.  There are many choices for these components, but we like the simplicity and relatively low cost of the  
Marchand MB42 Amplifier.
The MB42 has 300 watts of power and a very nice analogue, 24db slope crossover network built in.  Over the years it has proven a reliable and capable component match to the ELF cabinet.  The cost is $2,900 purchased directly through Volti Audio.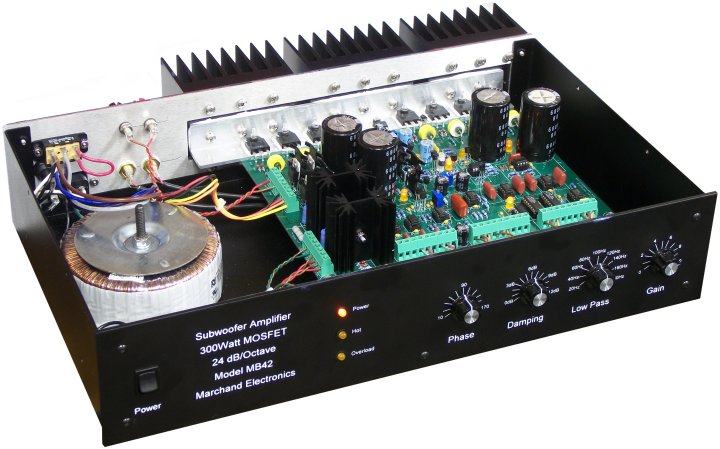 Vittora System Capabilities
Frequency response of the Vittora System is 25Hz – 20Khz (main speakers 50Hz – 20Khz and the ELF cabinet 25Hz – 50Hz.   What is interesting here is the design of the system, utilizing a bass horn that extends to 50Hz, and a separately powered cabinet that handles the last octave below that. The end result is a system that sounds like it is fully horn-loaded down to 25Hz, but in a much smaller package than it would be if there was a 25Hz folded horn.
Sensitivity is 104db 1W/1M and power handling is 200 watts continuous. We don't know of another speaker on the market with such a combination of sensitivity and power handling. The Vittora system is capable of whisper detail at one-one hundredth of a watt, and thundering power at 200 watts, capabilities that are very unique indeed.
There are hundreds of wood veneer species available for us to install on your speakers.  We'll help you choose something special just for you by sending you photos of actual veneer sheets to choose from.  Beautiful and rare species such as Red Gum, Rosewood, Bubinga, Zebrawood, Bosse Cedar, Tiama, Mahogany, Burls and specially figured veneers are all available for us to install on your Vittoras.  So let's go all out and find a really great veneer!  These heirloom quality speakers deserve it!