Volti Audio designs, builds, and sells high sensitivity horn speakers that have a musical impact rarely found in our industry.
Effortless power delivery, full bandwidth dynamics, near-perfect driver integration, wonderful imaging and soundstage, great tonal balance from top to bottom – all describe what you will hear from your Volti Audio speakers
It is the "Volti" sound – "Turning the page" on horn speaker design
Volti Audio is a 'Semi-Custom' shop, meaning, we have several models of speakers for you to choose from, and all of them are customizable with various options and finishes.  Typically the wait time for a set of Volti Audio speakers made to your specifications is three to six months, depending on how busy we are in the shop.  But we often have finished speakers available for immediate shipment.  Currently we have three sets available.  Please click on the links below for info/pics/pricing:
Pre-owned Vittoras with two ELF cabinets
Rosewood 2020 Rival Special Edition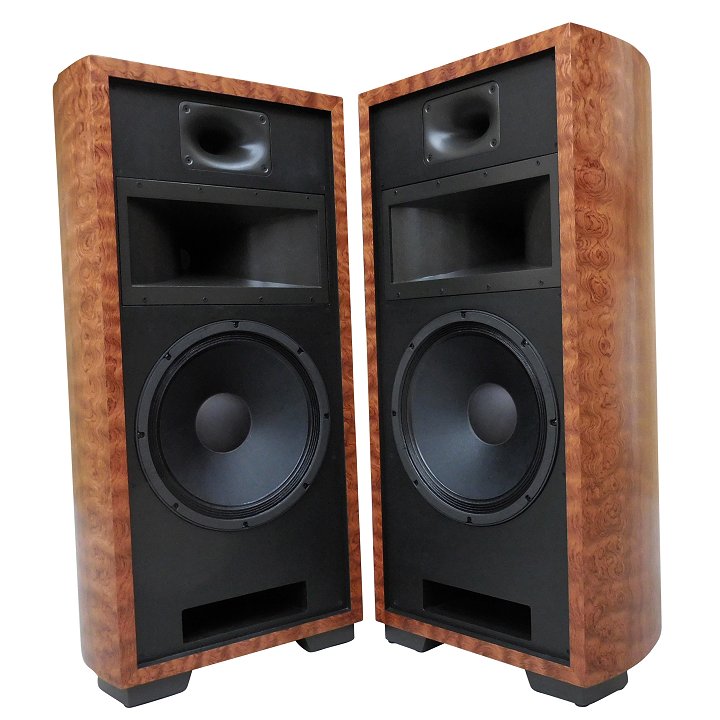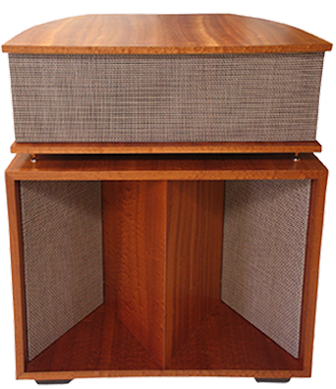 VITTORA
The Vittora is a fully horn-loaded, three-way, high-efficiency speaker system that delivers wide dynamic range, high output, and extremely low distortion.  It IS a horn speaker, and it gives us everything we like about horns while minimizing the problems that plague some other horn designs.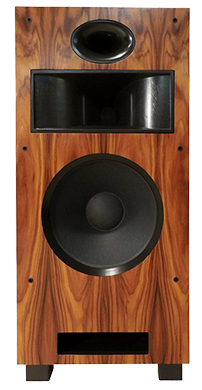 RIVAL
Big Horn Speaker Performance
In a Smaller Footprint
The Volti Rival, is a 3-way, hybrid horn/bass-reflex loudspeaker that offers high sensitivity, wide bandwidth and superb cabinetry in a compact and affordable format.  It is probably the most musically exciting speaker of its size!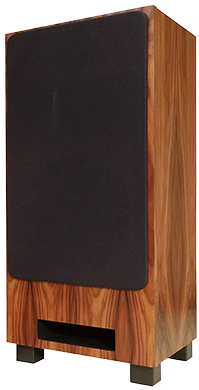 The Volti Audio Razz
It's Going To Be Fun!
The Razz is 40% smaller than the Rival, but just as much fun to listen to music with.  This new three-way, hybrid horn/bass reflex speaker boasts a 97db sensitivity and great bass response down to 35Hz.  Yes, it does have the "Volti" sound – dynamic, effortless, immersive, sings with one voice, and with full range tonal balance from top to bottom.
The Razz comes standard with 1″ thick Baltic Birch plywood cabinet construction, fully finished with beautiful wood veneer and paint, high quality woven cloth grills, hand-built crossovers and much more.  The Razz is truly a Volti Audio speaker through and through, combining quality of construction, beautiful finishes, and that GREAT sound that Volti Audio is known for.
The introductory price for the Razz is just $4,999/pr plus shipping.  They can be shipped via UPS very economically here in the U.S.A.
The official introduction for the Razz is set for the end of April 2020, and will be available for sale at that time.  Unlike other Volti Audio speakers which are built to order, the Razz will be sold in pairs, as built and finished by Greg Roberts via a "Buy It Now" button, here on this website.  If you're interested in buying a pair of Razz, you'll have to grab 'em when you see them for sale!  Or . . .
Get On The List!
If you would like to get first dibs on available pairs of Razz speakers, before they are put up here on the website, send me your name and email address and I will send you an email with all the information just as soon as they are built and ready to go.  This will give you a chance to buy your Razz speakers before the general public sees them here on the website.