"Stereophile Magazine, October 2013
Recommended Class-A Component"

and

Runner-Up for the Stereophile Magazine 2013
"Loudspeaker Of The Year"!






Volti Audio Vittora

By Greg Roberts




If you would like more in-depth information about how the Vittora was designed, and why the system
sounds the way it sounds, please visit the 'Vittora-More' page by clicking HERE






Made in the U.S.A.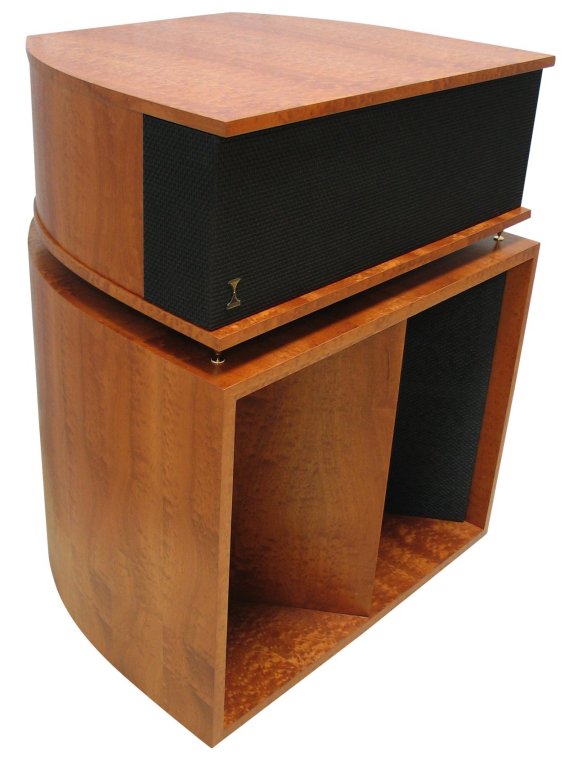 Bosse Cedar, medium-rubbed lacquer, black cloth
The Vittora is a fully horn-loaded, three-way, high-efficiency speaker system that delivers wide dynamic range, high output, and extremely low distortion. It IS a horn speaker, and it gives us everything we like about horns while minimizing the problems that plague some other horn designs. The Vittora strikes a balance between the sound of a high-end, smooth, audiophile speaker, and the in-your-face, lively, dynamic sound of a big horn system. It is unmistakably true to the all-horn format, but polite enough to be taken seriously by any audiophile.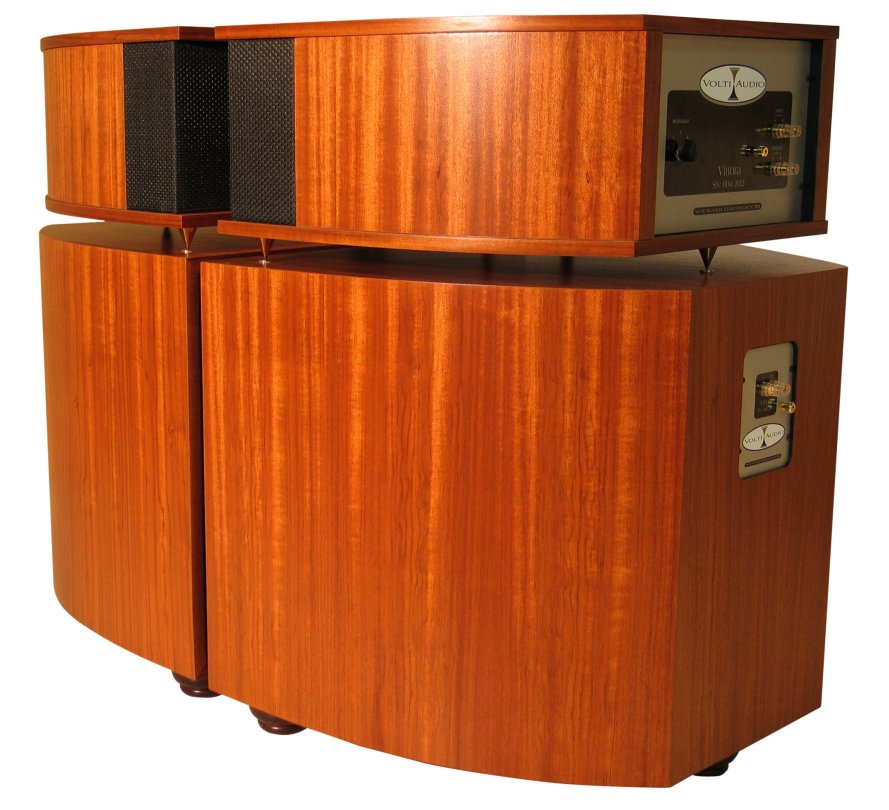 Tiama, medium-rubbed lacquer, black cloth
The System
The Vittora system is a five-piece set that includes two top horn sections (each with a midrange horn and a tweeter horn), two folded bass horns and one Extended Low-Frequency (ELF) cabinet. The main speakers are three-way and are operated full-range, but with the ELF cabinet, it is technically a four-way system.
The Vittora bass cabinet utilizes a 15" woofer in a folded horn to produce solid, accurate bass. Even at high output levels, the distortion from this horn is undetectable, and the result is a quickness and definition that you can only get with a horn design. There's no ported bass sound with this horn speaker! You get tight, accurate bass, a correct sounding upper-bass/lower-midrange, and perfect integration between the bass and mid.
The Vittora uses a large wooden midrange horn with a tractrix flare, designed and built in-house. The horn has a 2" throat and uses a large-format midrange compression driver with a 3-1/2" voice coil. This combination of large, solidly built wooden horn with a large throat and huge midrange compression driver results in a midrange sound that is effortless and easy to listen to. There is no constriction of the sound through a tiny throat, there is no edginess, graininess, or honky sound that so many other horn designs suffer from. The Vittora midrange is smooth and articulate, dynamic and uncolored. The midrange is truly the heart of this loudspeaker, and the listener is rewarded with a musicality from this midrange horn that is very rare in this industry, at any price.
The tweeter combines a 1" compression driver feeding through an elliptical tractrix horn, and with a carefully tuned crossover filter, it delivers extended, smooth high frequencies that compliment the rest of this system.
The hand-wired crossover networks are located inside the top horn section, and are the result of hundreds of hours of listening and testing to achieve near-perfect integration between the system components. The networks provide many adjustments for balancing the system, if desired.
The Extended Low-frequency (ELF) cabinet handles frequencies below 50Hz with a massive 18" driver in a bass-reflex cabinet carefully tuned for music, not home theater sound effects.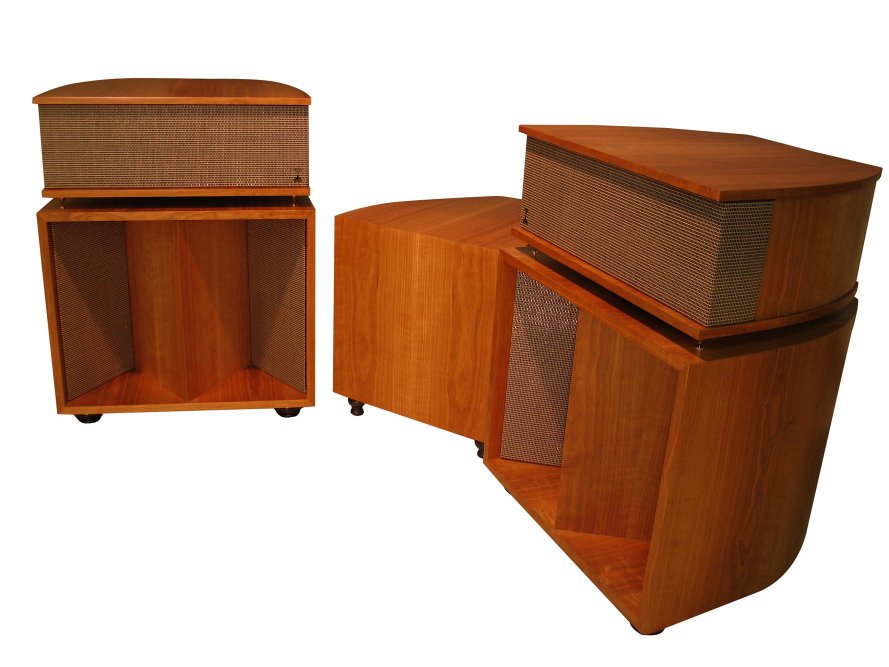 The Five-Piece Set in Cherry veneer with Cane-style cloth
Each Vittora cabinet is 32" wide at the front, 15" wide at the rear, 27" deep, and 40" tall. The folded bass horn weighs 127lbs and the top horn section weighs 60lbs. The ELF cabinet is 24" wide at the front, 6" wide at the rear, 24" deep, 27" tall, and weighs 115lbs.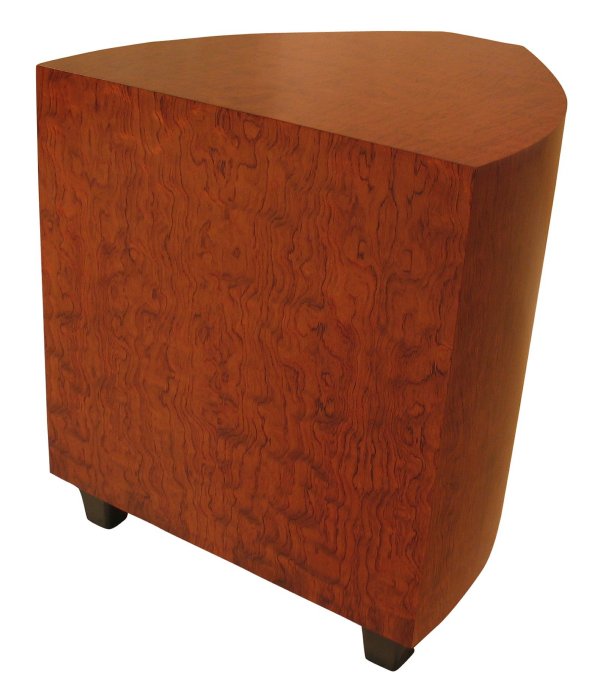 The ELF cabinet is non-powered, so you will need an amplifier and a processor to provide the necessary crossover. There are many choices for these components, but we like the simplicity and relatively low cost of the Marchand MB42 Amplifier.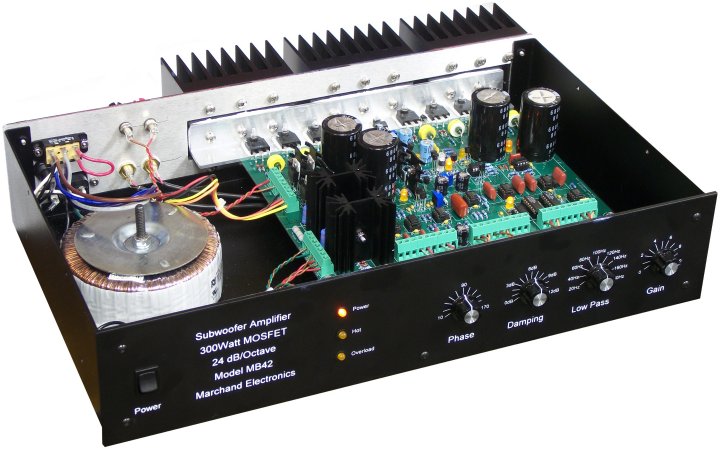 The MB42 has 300 watts of power and a very nice analogue, 24db slope crossover network built in. At $1,900 it represents very good value, and can be purchased directly through Volti Audio.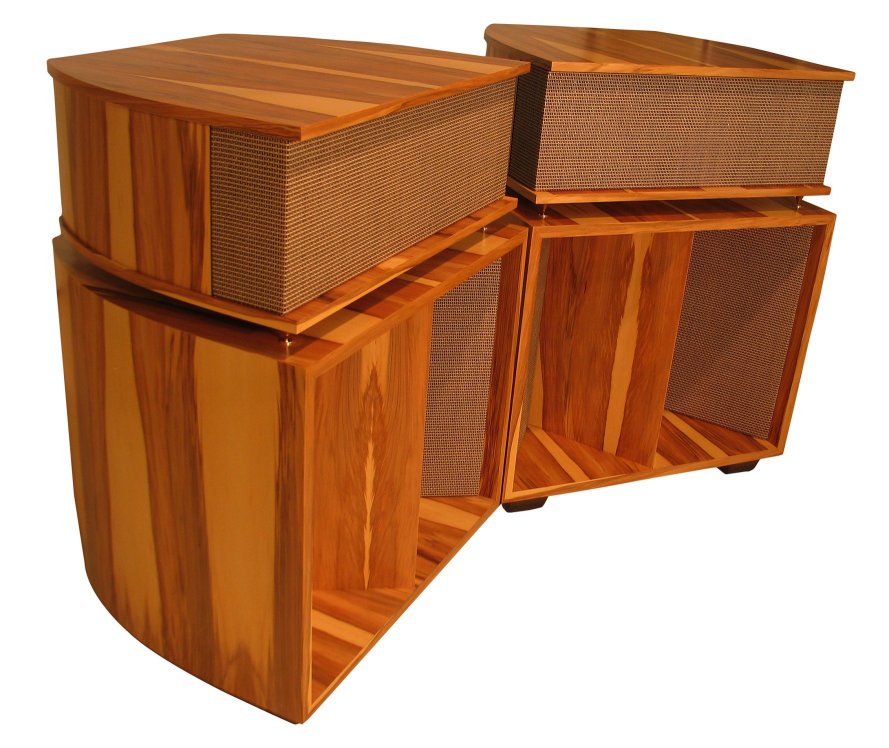 Red Gum (Satin Walnut) veneer with Cane-Style cloth, medium-rubbed lacquer






Vittora System Capabilities
Frequency response of the Vittora System is 25Hz - 20Khz (main speakers 50Hz - 20Khz and the ELF cabinet 25Hz - 50Hz. What is interesting here is the design of the system, utilizing a bass horn that extends to 50Hz, and a separately powered cabinet that handles the last octave below that. The end result is a system that sounds like it is fully horn-loaded down to 25Hz, but in a much smaller package than it would be if there was a 25Hz folded horn. This is explained in much more detail in the 'Vittora More' page linked above.
Sensitivity is 104db 1W/1M and power handling is 200 watts continuous. We don't know of another speaker on the market with such a combination of sensitivity and power handling. The Vittora system is capable of whisper detail at one-one hundredth of a watt, and thundering power at 200 watts, capabilities that are very unique indeed.




The Vittora system gives you
High Sensitivity
High Output
Wide Dynamic Range
Seamless Integration
Accurate Tone and Timbre
High Resolution
Robust, Durable Construction
Beautiful Veneers and Finishes
Great Value
What Others Have To Say About Their Experience
Listening To Vittora Speakers
". . . the only speaker at the show where their dynamic capabilities actually startled me. As in I literally jumped out of my seat. Phenomenal".



---
"Recreate front row at a concert like you can't believe. Fabulous".



---
"Set up along the long-wall of the room with the matching subwoofer off to the side, the Vittoras pretty much unzipped my ears and stuffed awesome inside. Yep, that was me, a Part-Time Doll, stuffed full of audio awesome.
Dynamics? . . . Check-check.
Grab you by the balls until you squeal like a little girl? . . . Check.
Bass that can crush your rib cage like Oddjob with too many billiards balls? . . . Check"!
"Greg Roberts seems to have taken his loudspeakers yet another giant step forward and for that, I must doff my cap. Well done sir"!
Scott Hull



---
"Though Roberts claims only a 50Hz floor for the Vittora, it sounds as if it goes much deeper than that, and is as relaxing and engaging a speaker as one can find. There is nary the slightest whiff or hint of horn colorations, and jazz in particular was bewitching through the Vittoras. Marc said that he could "just sit there and listen for hours," and I fully concur. This is one of those speakers that simply makes you forget about hi-fi as such when you hear it".
Paul Bolin



---
"Detail, tone, timbre, dynamics, extension - this speaker has it all".



---
"In short, these speakers sound great".
". . . the Vittora is a blast from the past, in the best possible sense".
". . . the best resolution that I've heard, outside of an Accuton-enabled speaker. More generally, everything hung really well, voices were present and resolute, and images were stable, clear, and the whole was extraordinarily musical".
"There just aren't that many high-sensitivity speakers on the market that are this good, this sensitive, this good-looking, and this well made - at anywhere near this price. Greg has a seductive and compelling package here".
Scott Hull



---
"Finally, a retro speaker that attempted to sound modern while preserving the benefits of high sensitivity. The title track on the SACD of Steely Dan's Gaucho was reproduced with a full-range balance, extended highs and lows, natural tonal quality in midrange, and excellent dynamics".
"Your room was an island of good sound on the Crowne Plaza's second floor"!
John Atkinson



---
"All I can say is Oh My....What a sound! Even under these stressed out show conditions, and way before I even sat down, the sound coming from this combo was immediately gorgeous and instantly special. Everything sounded open and harmonically right: devoid of any obvious colorations or distortions. I want to emphasize 'harmonically right'. This gave the room a sense of ambiance that was rare and exciting to hear in showroom".
Clement Perry



---
"After a few weeks with the Vittora, I find myself convinced by the naturalness, momentum, and force that it found in every record I played: This is surely one of the finest horn-loaded speakers made in the US".
"The build quality of my review pair, finished in bosse cedar, equals that of the finest American loudspeaker cabinetry I've seen, DeVore Fidelity and Thiel Audio included".
"At the far end of my room, driven by the 25W Shindo Corton-Charlemagne amplifiers, the Vittoras sounded nothing short of wonderful".
"That said, at the end of the day, literally and figuratively, I didn't feel as though I needed the Vittora subwoofer - I didn't really miss when it wasn't there. I thought the sound of the Vittoras alone was beautifully balanced, and more than eminently satisfying in terms of bass volume and power. Don't take the "50Hz" thing too literally: The Vittora had much more bass than that specification suggests".
"The Vittoras allowed Charlie Watts's drumming to sound as forceful as it should - in which regard the Vittoras were in a very small class of speakers I've had in this room, next to my Altecs and not a whole lot else - while also sounding utterly clean and free from harshness: a blessing".
"On the Berlioz, the Vittoras did nothing less than prove themselves the elusive ideal: loudspeakers with the musical strengths of horns - Crespin's dynamic nuances throughout "Sur les lagunes" were breathtaking, as were the plucked double-bass strings behind the second verse - that were both free of egregious colorations and capable of casting a beautifully deep, convincing stereo image".
"I'm impressed with this loudspeaker. So have been any number of visitors to my home during the Vittoras' stay here".
"Why do we need so many audio shows? Today, I'd say it's to give as many people as possible, in as many places as possible, a chance to hear products such as this, whose absence from my home I already mourn".
Excerpts from the full review, written by Art Dudley, and published in the September, 2013 issue of Stereophile Magazine.



---
If you'd like to read more show quotes with links to the source, or if you'd like to read more reviews and interesting articles written about the Vittora speakers, please visit these pages.
Volti Audio Reviews and Interesting Articles










Pricing - through 12/31/2015
Volti Audio sells the Vittora system direct to our customers, with no distributors or dealers.
Current manufacturer-direct price for a set of Vittora speakers is $25,000.00. This includes two bass horns, two tophat mid/tweeter horn cabinets, and one ELF cabinet.
Options:
Marchand MB42 300 watt mono amplifier with analogue crossover for the ELF cabinet - $1,900.00
StillPoints feet for the tophat sections (6 Standoff isolation feet) - $210
StillPoints feet for the bottom bass horn sections (6 Flush-mount isolation bases with 6 flat feet that screw into the bases) - $1,140
ELF cabinet delete - <-$3,500>
Veneer
The Vittora speakers and ELF cabinet come standard with your choice of six different real wood veneers. These are premium grade wood veneers that I purchase from several different suppliers. The veneer is applied with vacuum bags and urethane glue for a superior bond, and flat, smooth finish. Grain patterns are carefully considered for each panel of the cabinets.
Standard wood veneers include:
American Walnut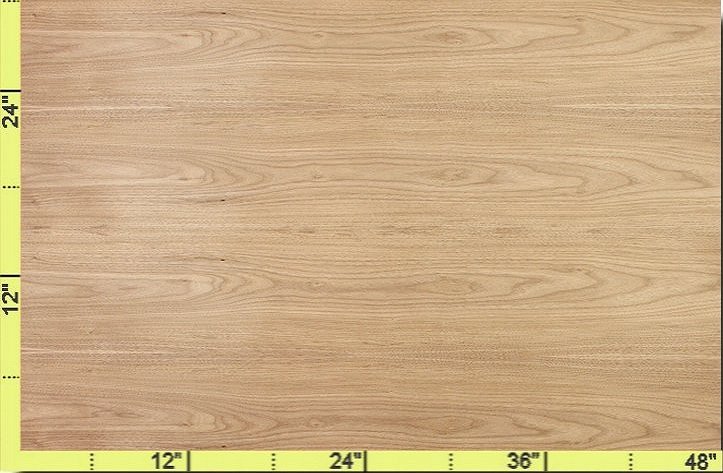 When finished, this veneer presents a nice grain 'picture', is medium to dark toned, brownish/gray, and will turn a bit more red toned as time passes. This is a classic wood veneer for speakers, and will look great with either black or cane-style grill cloth - although I think the cane-style is the best with this veneer.
Birch (rotary cut)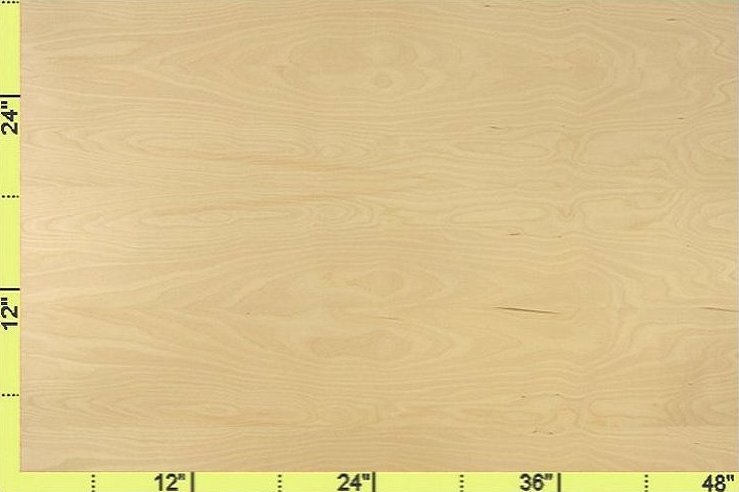 When finished, this veneer presents a wide grain pattern, is light to medium toned, will often have a mixture of sapwood and heartwood, sometimes with the heartwood having a reddish hue. Will darken over time and take on a richer tone. This veneer blends beautifully with most other wood furniture/flooring.
Maple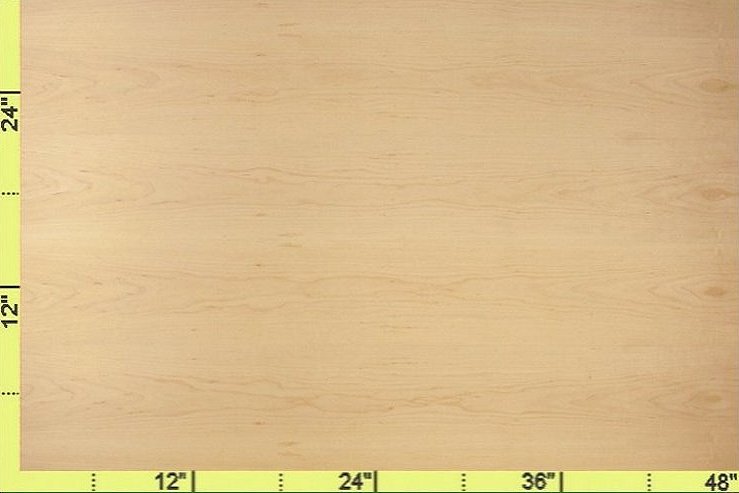 Maple is a light colored veneer with a tight, subtle grain pattern. It will often show a bit of figuring or small 'eyes' which add interest under close inspection. Will not darken as much as other woods over time. It works particularly well with the contrast of black grill cloth.
Natural Cherry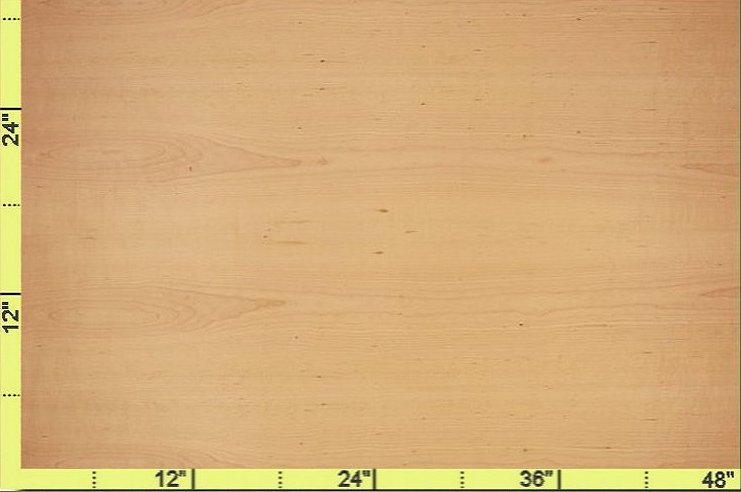 Not to be confused with stained cherry furniture, which is often dark and reddish in hue. Natural Cherry is medium toned, tan/brown with a bit of a red hue. It has a simple grain 'picture' and will often have heartwood mixed in. It will darken and turn a bit more reddish over time. Works well with a wide variety of decors and other woods.
White Ash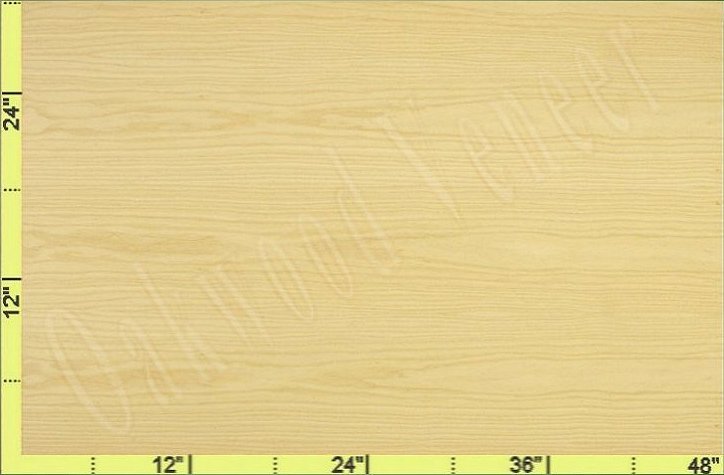 White Oak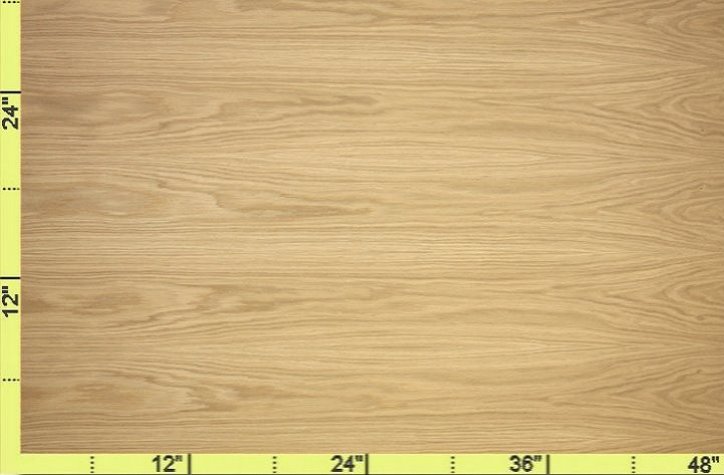 White Ash and White Oak both have strong and distinct grain lines. Both will darken when the finish is applied, but will still be medium to light toned, with the Ash remaining lighter than the Oak. These work really well with the contrast of black grill cloth.




There are dozens of other veneers to choose from at a wide variety of prices. I offer different levels of service to help you choose the veneer that is just right for you. Please contact me for more details.




These prices are subject to change at any time, without prior notice. 1/2014






Shipping
Volti Audio will ship speakers worldwide. We have established relationships with several different shipping companies to safely and economically move these large speakers anywhere in the world.
We also have our own business insurance policy that covers all of our shipments for full coverage loss.
Here are some shipping cost examples for two crates, each containing a Vittora speaker:
Liftgate pickup in Benton, Maine, truck freight service to a port in New Jersey, ocean freight to a terminal in Hong Kong, China, including full-coverage insurance - $1,390
Liftgate pickup in Benton, Maine, truck freight service with curbside liftgate drop-off in California, including full-coverage insurance - $1,100
Liftgate pickup in Benton, Maine, truck freight service with curbside liftgate drop-off in Atlanta, GA, including full-coverage insurance - $650


Please note that our speakers are now shipped with custom-made Corduroy cloth covers. Also, the construction of the crates remains the same as shown in the photos below, but each Vittora speaker and ELF cabinet will have its own crate.

We use 2" of high density foam to protect the cabinets inside the crates.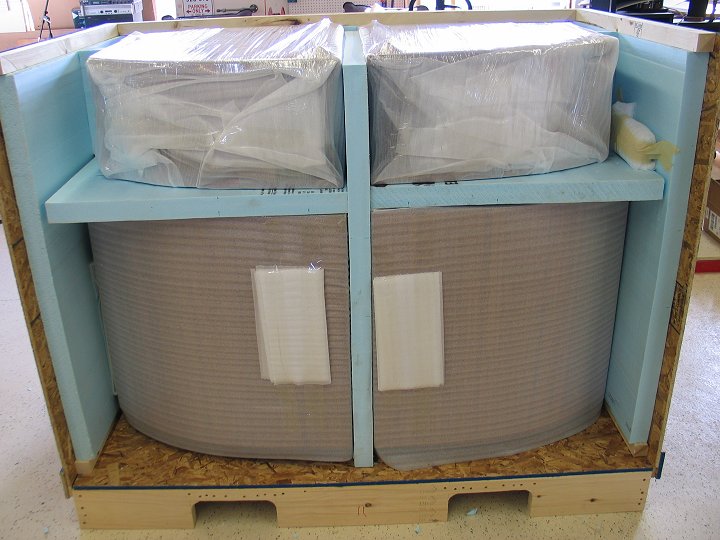 Our crates have wood completely covering all sides. This is not a lightweight crate made with slats of wood, covered in cardboard. This is a rugged, re-usable crate that will protect your speakers from the normal exposure they will face while being shipped around the world. The cost of this crate is included in the price of the Vittora speakers.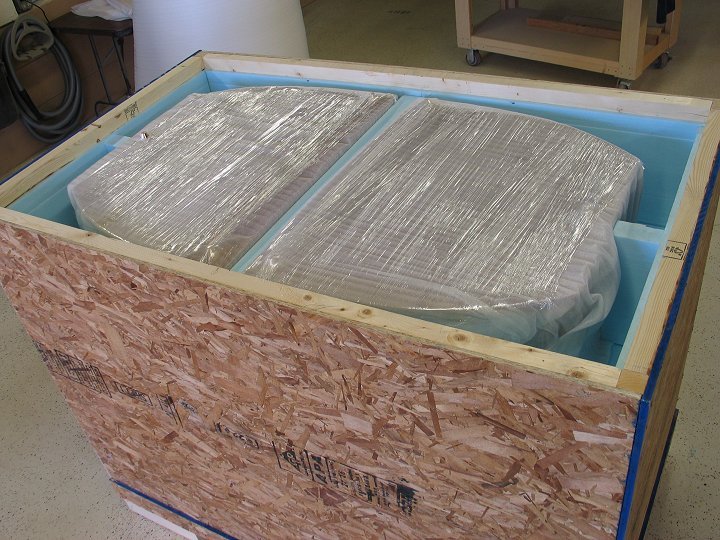 Feedback From Vittora Customers

"I've been an audiophile for more than twenty years, and have owned some of the best (and most famous) speakers made. As far as I'm concerned, none of them compare with Greg's horn speakers. Add to that the fit, finish and care he puts into them and you have something magical."
Seth - 2013 Vittoras




---
"Greg, just wanted to give you some feedback on the Vittora speakers that I purchased from you. When I met you at the Rocky Mountain Audiofest in October of 2011, I was on a hunt for a speaker to replace my Harbeth 40.1 monitors. RMAF is a great show, and there's almost too much to listen to there. After listening to many nice systems I began to suffer hifi burnout, and I was glad to stumble into your room. What a difference! It felt like I was hearing real music for the first time that weekend. There was a complete absence of the aggressive 'high end speaker' sound that was wearing on my nerves. The Vittoras just made great music happen, and I knew I had to have them. It was convenient for me to be able to pay with a credit card at the show, and I really appreciate the free shipping back to my home in Chicago.
I have lived with the Vittoras for several months now. They have been driven by Fi 2a3 Monos, Fi 421a, Shindo, and Leben amps. The source is always digital stream through a variety of converters. I supplemented the low end of the speaker with the large REL subwoofer. The sound is open and transparent to the point of not noticing the speakers at all. With most of my other speakers I always found myself listening to music through the speaker--trying to ignore or erase the artifacts or shortcomings while listening. The Vittoras have the transparency of Quads, the dynamics of vintage Altec horns, the vocal presence of the big Harbeths, the imaging of mini-monitors, and the scale of the big Maggies. These are all speakers I have owned, loved, and listened to extensively over the past 30 years and I am thrilled to find one speaker that can combine the best points of them all while being driven with my favorite tube amps. It is just a bonus to have them beautifully finished like heirloom furniture. I would keep them in my living room if they were unfinished plywood!
I have found them responsive to changes in cables and interconnects as well as tube rolling and component swapping. I have had the best luck with the simplest of set ups. There is no horn shout, no beaming, and no tippy high end. Compared to other horn speakers, they are a big step into the world of ultimate sound. Thanks for producing such a great product!"
Kirby
Chicago, IL




---
"Hi Greg,"
"I just got the Vittoras delivered this evening. I didn't have the help to get them into my livingroom, but I did get the packing crate totally opened, and OMG! You certainly were right when you said I would like the black grill covers, and I most certainly do. My girlfriend was just blown away at the the incredible veneer and the sheen of your new clearcoat. I just stood there for the better part of an hour taking them in and I'll just have to wait until I get a buddy over here who can help me move them in and I can hear them. To say that I am pleased is an understatement. I am very pleased, and I will let you know when I have a chance to hear them."
"Thank you so very much, Dale."



"Wow Greg, this is the kind of sound my ears have been searching for!"
"Other high-end speakers I've owned have left me cold, but the Vittora speakers are warm and full sounding - not in your face, but enveloping. They are like "comfort food" for the ears!"
"I am a huge Jackson Browne fan and I am listening to his Time the Conqueror album and the bottom end is defined, substantial and warm. I absolutely love the bass, it is as perfect as I could imagine it. I will not be using any sort of subwoofer with this system, the sound is very full and satisfying. I am very, very happy with these speakers on every level. They are definitely worth the price to me."
"The Vittora speakers are exactly what I was looking for."
Dale
Happy Valley, OR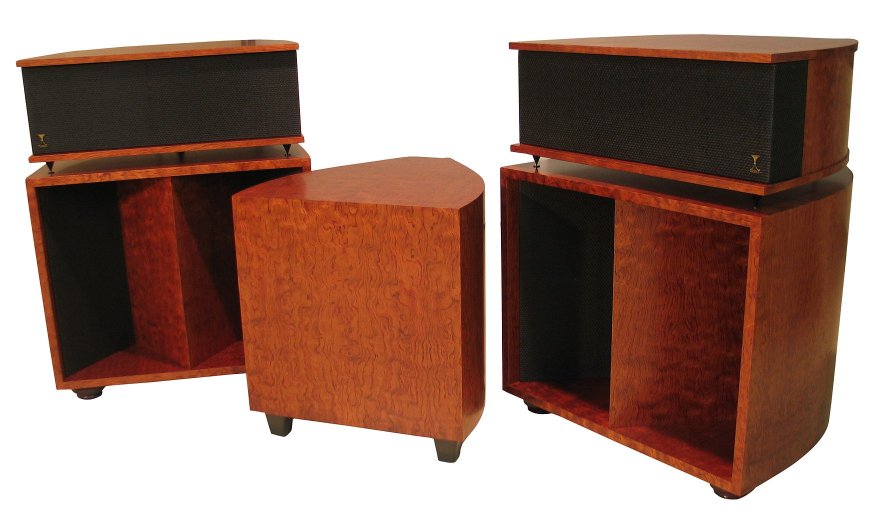 Overall, the Vittora offers a very high level of
sonic quality, flexibility, and beauty
at a competitive price point
Here are the photopages of Vittora speakers with various veneer finishes:







The perfect amplifier to go with Volti Audio speakers? I don't often endorse other products here on my website, but these amplifiers are an exception. Check out Border Patrol Audio Electronics HERE.



If you would like to hear what Volti speakers sound like prior to buying, you are invited to come to our shop in Benton, ME and see the operation and hear our speakers. Fly into Portland and we'll pick you up. You can even stay overnight at our shop if you'd like, or we'll make arrangements for a hotel room.
We also have a few customers who are willing to demo their Vittoras to potential Volti customers.




---