Volti Audio Rival - Photographs
Click on thumbnail photos for a larger photo, click again to close


The Rival is offered in a few limited finishes at a base price, with upgraded finish and parts options available. The finishes available at the base price include birch with clear finish, textured paint, or a combination of those two (painted cabinet bodies with birch/clear fronts).
Volti Audio is a semi-custom shop, which means that we have certain models of speakers that we build, but we can customize certain parts of the speakers to your liking. Below you'll find a wide range of finishes and options for the Rival speaker. Mix and match from what you see here, or come up with your own ideas and run them by us. We can do a lot of things here that other manufacturers are not set up for.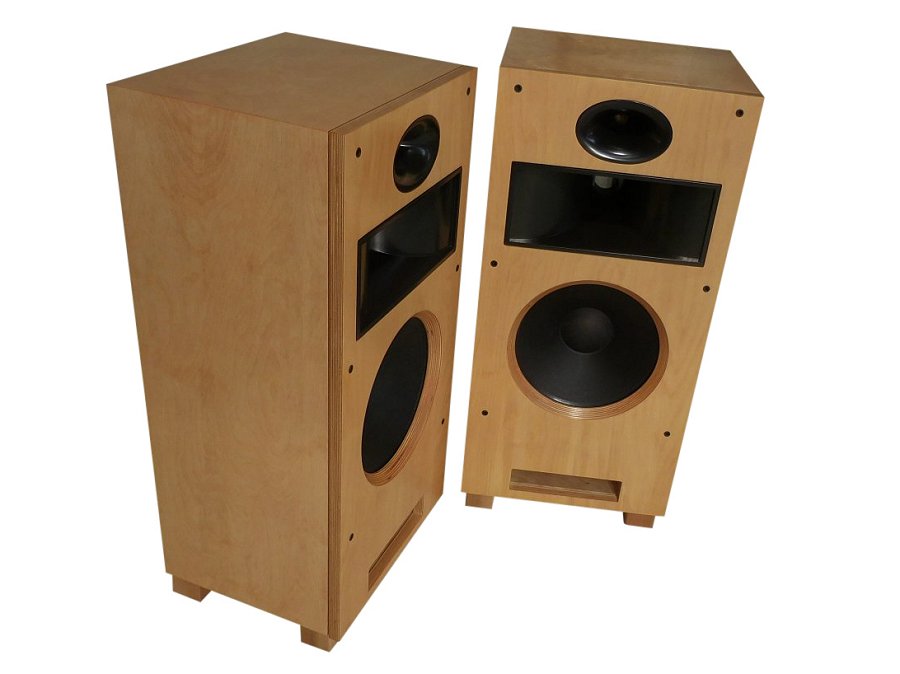 Birch plywood, sanded smooth, with clear satin lacquer finish applied, exposed plywood edges, satin black paint on horns.
Base level pricing
| | |
| --- | --- |
| Optional grills with black grill cloth. | Standard solid maple block feet, clear finish |
| | Wood cover over crossovers - standard for base level pricing |
In 2018 we began offering a textured painted finish as one of the base level pricing options. To date, only speakers that have had the fronts veneered have been painted. But the paint finish can be on the whole speaker, or on any part of the speaker at the base level pricing. The front veneer option is $500.
Custom paint colors are available, please inquire about pricing.




Ebony front veneer, textured black paint,
exposed plywood edges - with radius

Note the radius of the front corners -
which can be done with exposed plywood edges only

Figured Anigre veneer on the fronts, textured black paint,
exposed plywood edges - with radius

Durable textured paint
Both pairs of speakers as shown above are $9,400/pr






Figured walnut veneer (Full veneer option is $3,500)

Standard solid maple block feet,
satin black lacquer finish

Tan grill cloth. (Grills $500)





Clear lexan covers over crossovers - $150

Rosewood is always a great choice

No exposed plywood - painted or veneered

Backs painted black instead of veneered

Note the attention to detail of how the veneer is applied

Black grill cloth

Unique wood veneers like this one
come along only once in a while

Tan grill cloth









Rosewood is elegant and timeless





Our customer saw another speaker with a base that he liked,
so he sent us a photo and we were able to make these
custom bases for him

Dark Red Bosse Cedar veneer,
fronts only

Dark Brown paint, custom tinted to match
the tone of the front veneer

External crossover option
with cabinets that match the main speakers
and clear lexan covers

Slant feet versus the block feet
Contact Greg Roberts by phone/text - 207-314-1937
Email Greg