Special Volti Audio Rival Speakers For Sale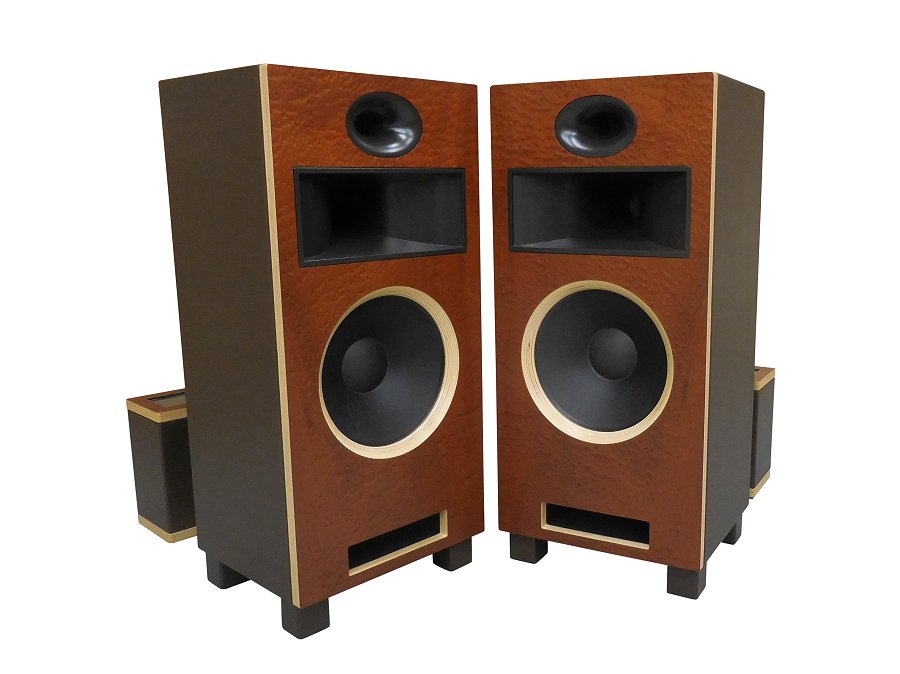 This is a beautiful set of Rival speakers we are offering for sale. Veneered in stunning Bosse Cedar, with wonderful texture and figuring in the grain pattern - it reminds me of leather somehow. The dark red color is natural and rare - what you are seeing in the pictures is a clear finish over the veneer with no stain applied. Just a spectacular veneer that you don't find in this quality level very often.
The paint is a very dark brown that really compliments the color tone of the veneered fronts - and as you can see the plywood edges have been left natural to provide contrast between the veneer and the paint. The cabinet corners have a radius, which softens and adds interest to the design.
These special Rival speakers have been wired internally with Triode Wire Labs 12ga speaker wire, and they come with the new Volti Audio external crossover units that provide a real step up in performance compared to stock Rivals.
I am providing two sets of feet with this pair of Rival speakers - one set of solid maple, painted to match the cabinets, and one set of slant-curved feet in red stain. (see photos).
These Rivals will be used at the Capital Audio Fest, Rockville MD, November 2 - 4, 2018. They will be available to be shipped or delivered after the show. It is first come, first served with the sale of these speakers, so don't dally. If you want them, get in touch with me right away and put a deposit down so they will be yours.
They come with reusable wooden crates and we can arrange shipment anywhere in the world.
Yes, I'll be happy to deliver them to you and help you set them up in your home. Just contact me and we'll work out the arrangements. Obviously there are limits to this offer, but consider that if you live nearby to Rockville MD or anwhere in between Maryland and Tennessee, it will be very easy (read inexpensive) for me to stop by on my way home from the show in November.
Would make a very nice Christmas Present!

Here's the price breakdown
Base price $7,900
Veneer $500
Extra feet $100
Triode Wire Labs internal wiring $500
External Crossovers $2,500
Reusable crates $300
Total $11,800
Show Demo Price is only $10,000!
(not including delivery or shipping)
(a savings of $1,800)
(remember, Volti Audio sells direct to our customers and our products have NO markup in them. Most other speakers have prices that are marked up almost double the manufactured cost and then discounted to entice you to buy them. No game-playing at Volti Audio, just direct sales and value that is based on the quality of the product.)
Please note, the above pricing is based on the old pricing for the Rival speakers. As of September 1, 2018, there was an increase in the price of Rival speakers, which makes the special pricing of these very special Rival speakers even that much more special.
Don't you think? : )
So what are you waiting for? Pick up the phone and give me a call!
Greg Roberts
Click on the photos below for larger images,
click again to close them
Contact Greg Roberts by phone/text - 207-314-1937
Email Greg